Vase / pot de Mado Jolain, France (vers 1960)..Vase / Pot by Mado Jolain, France (circa 1960)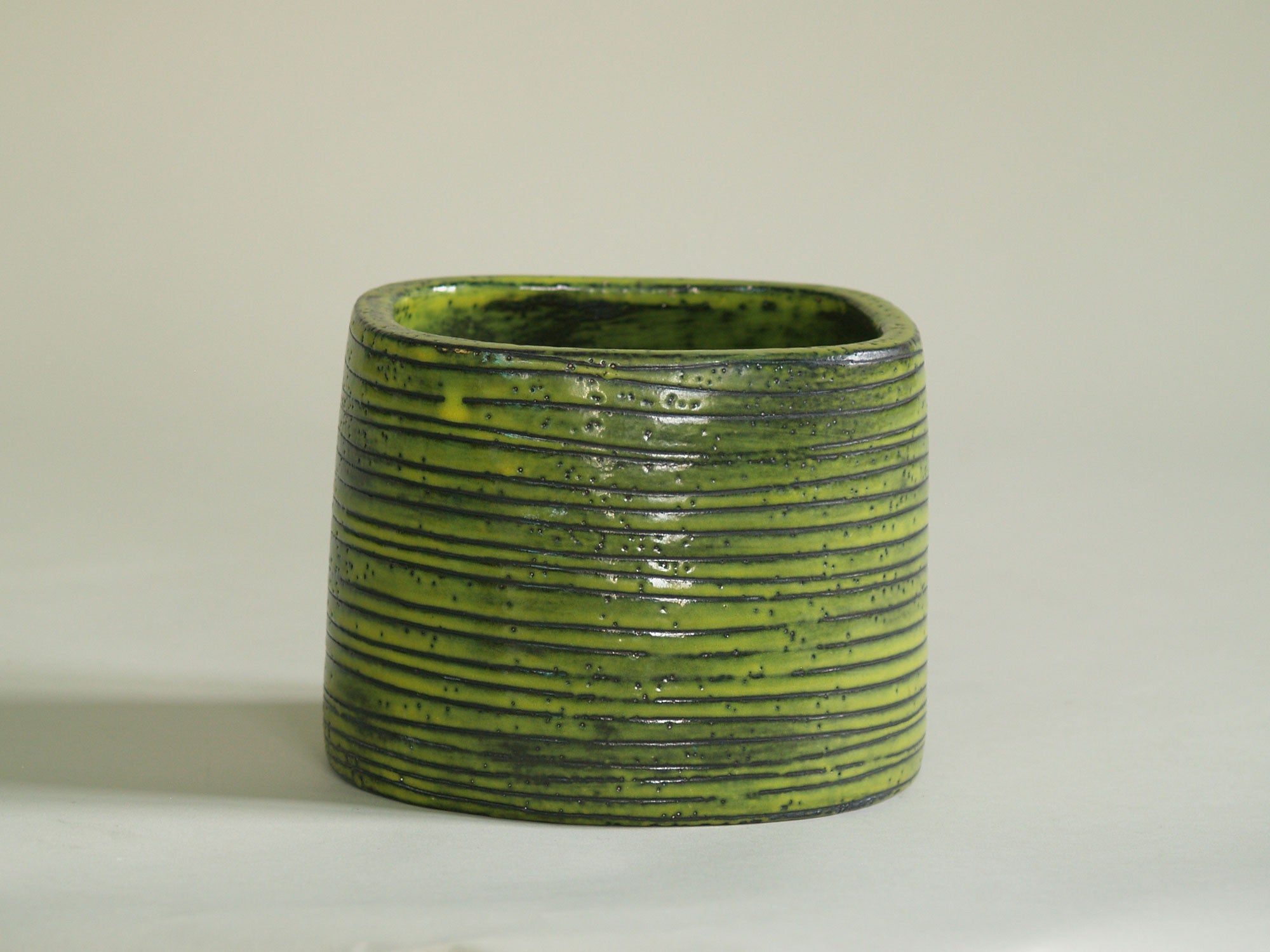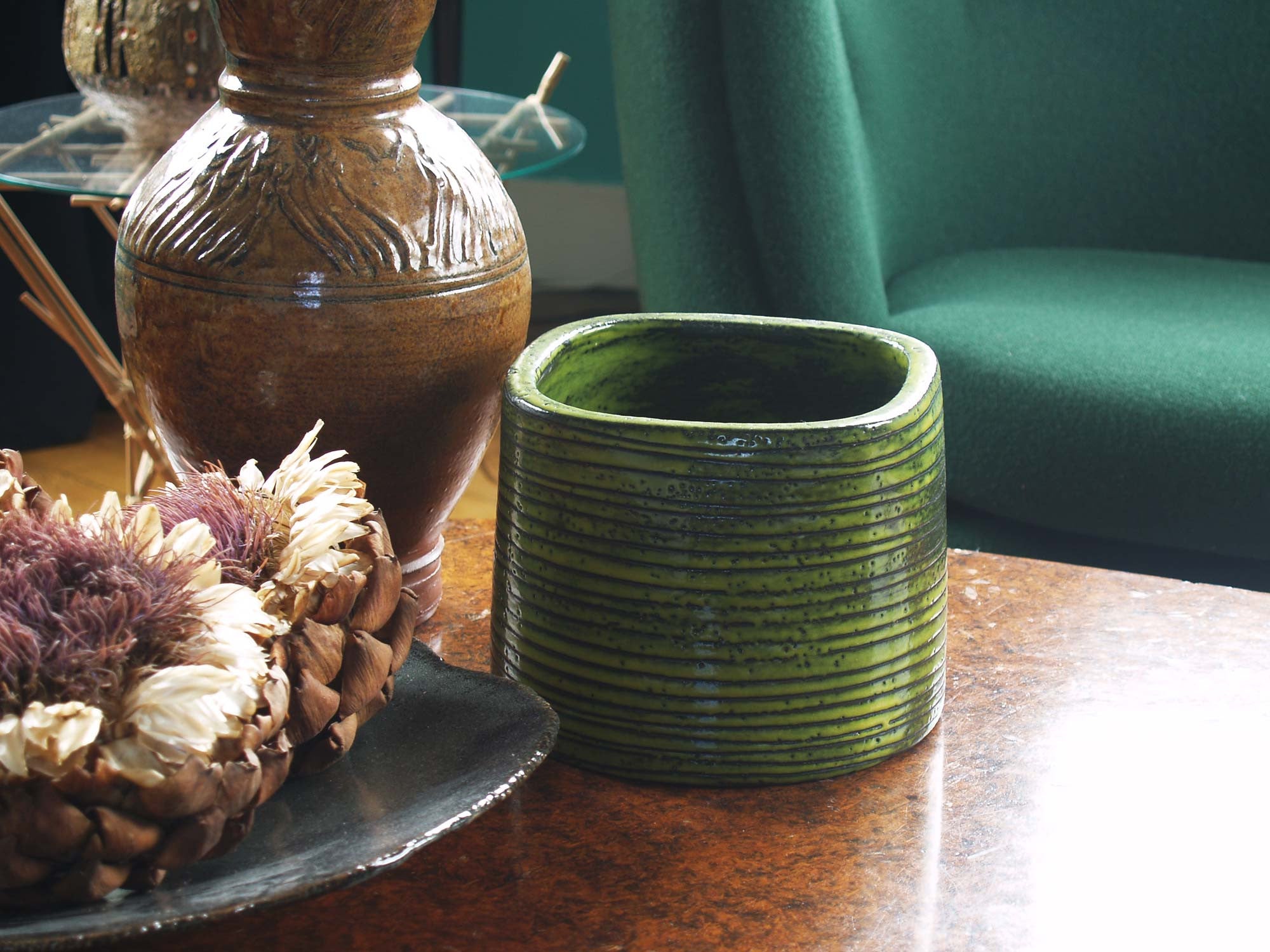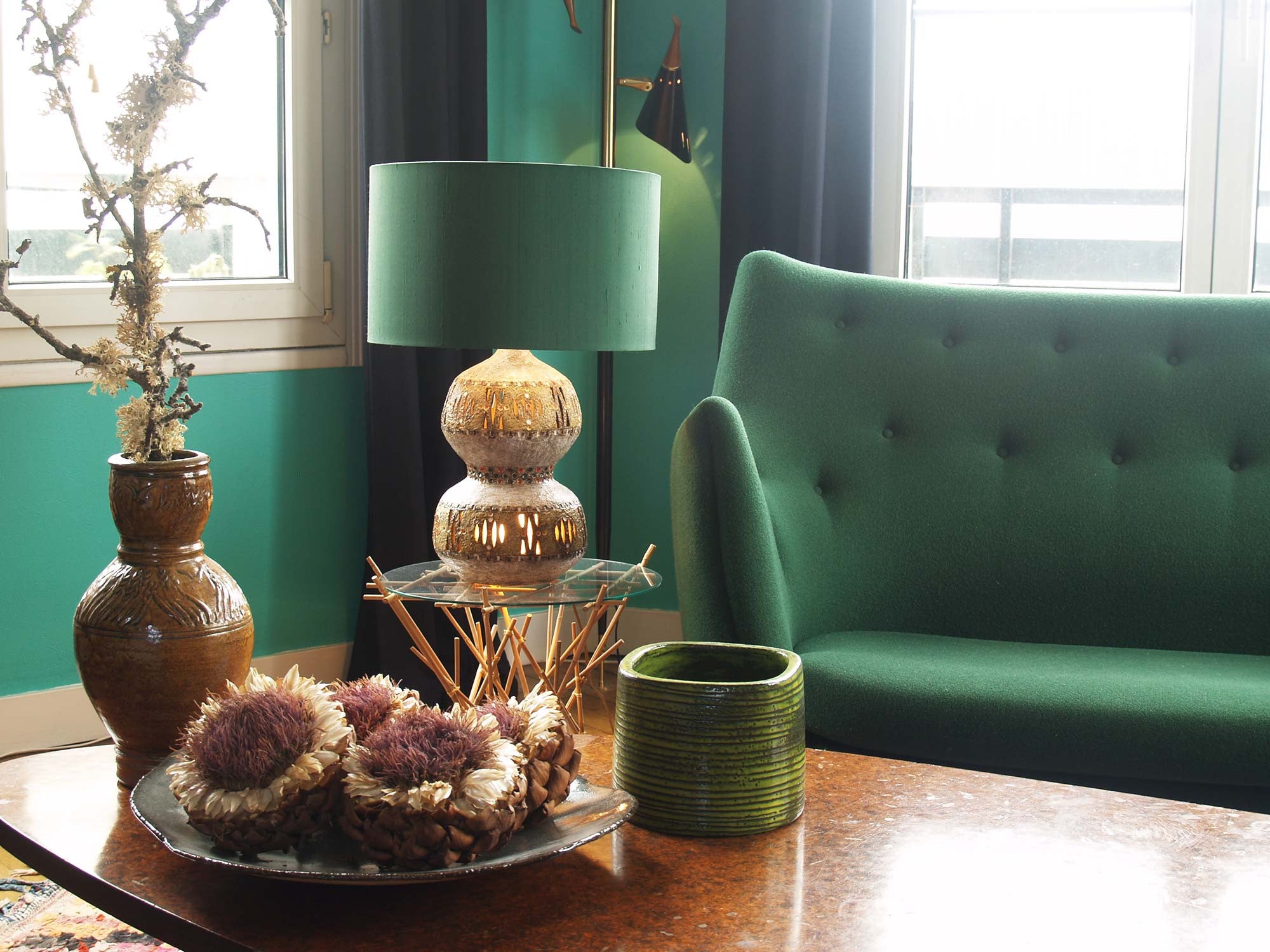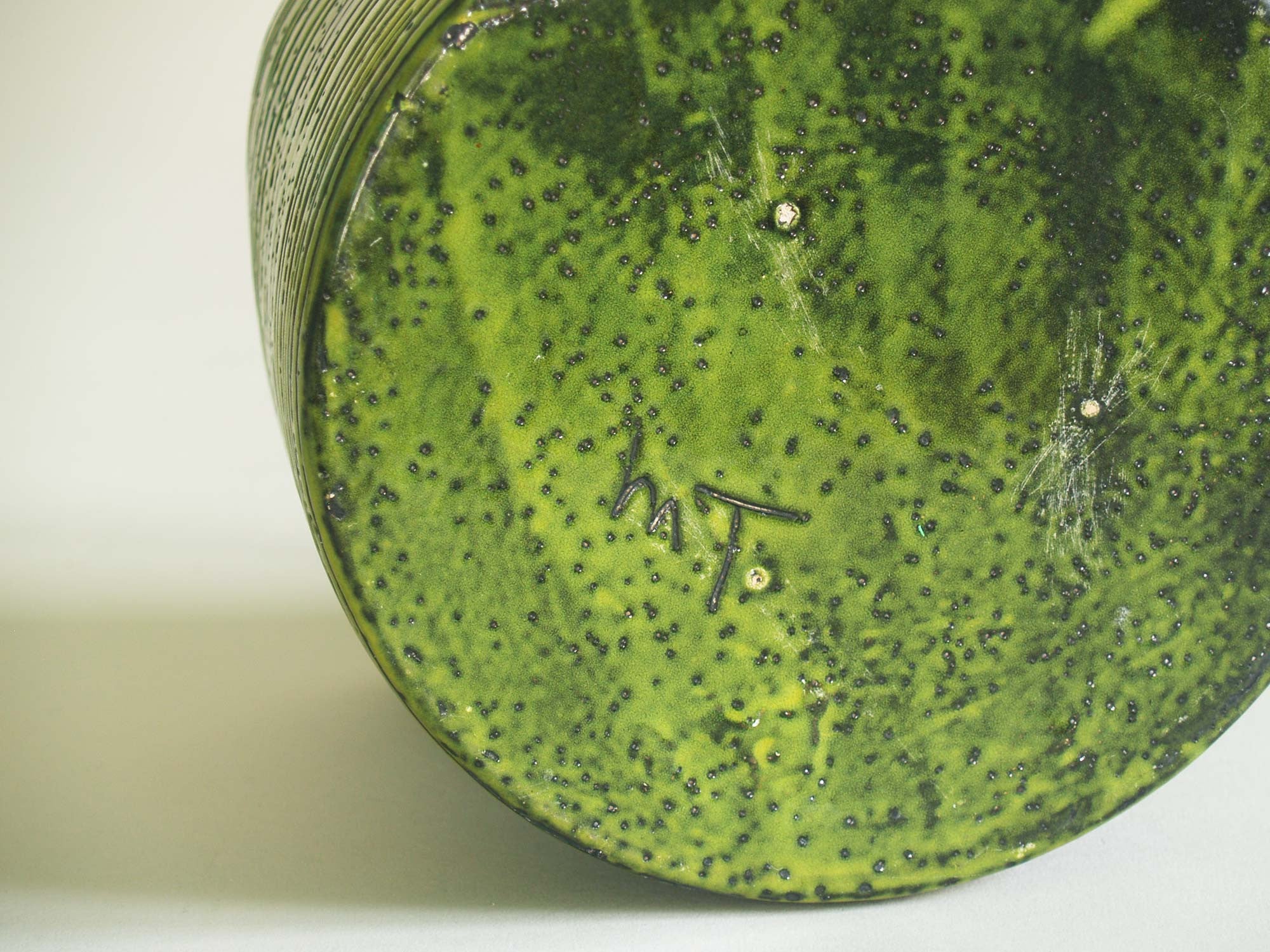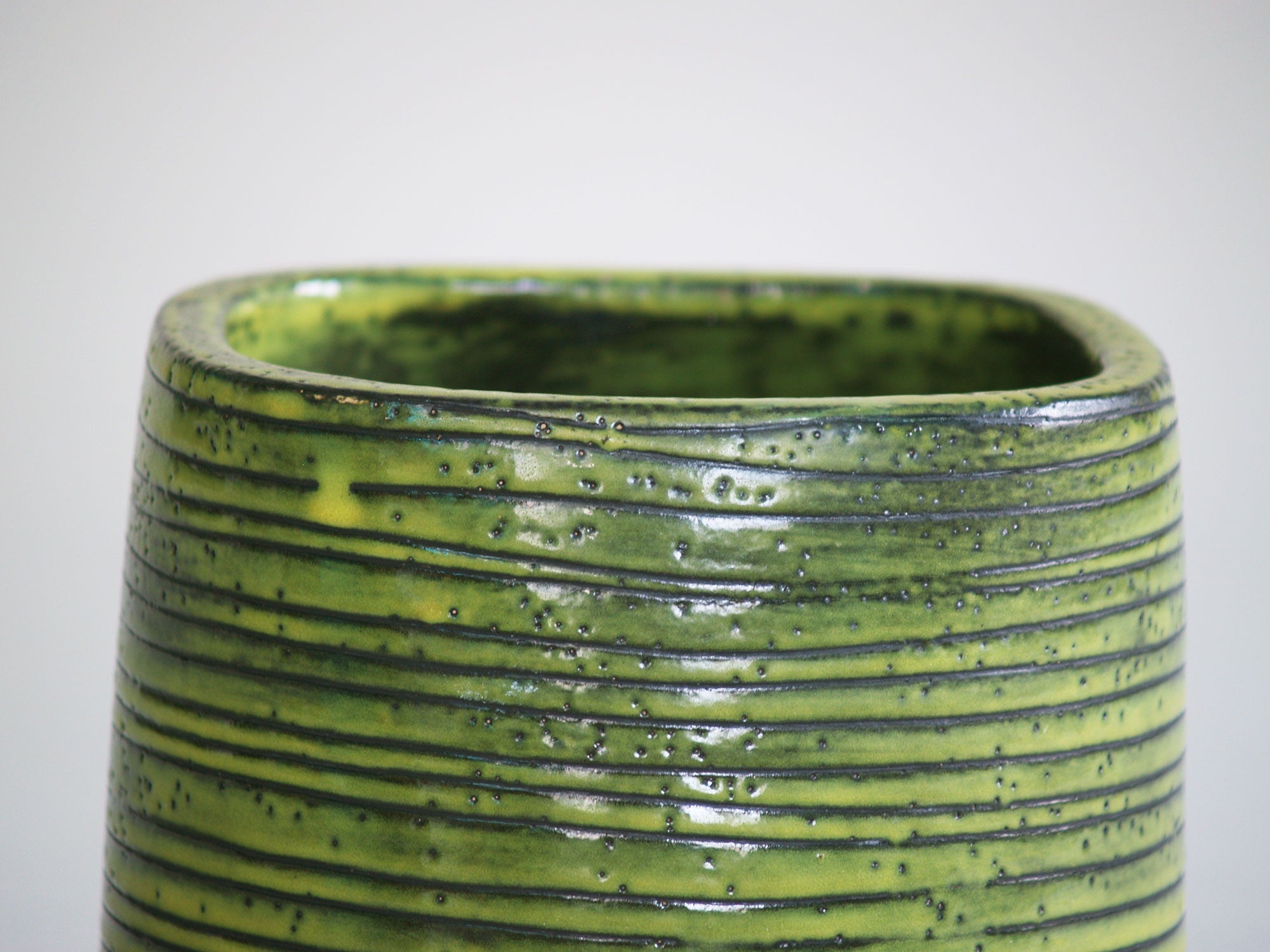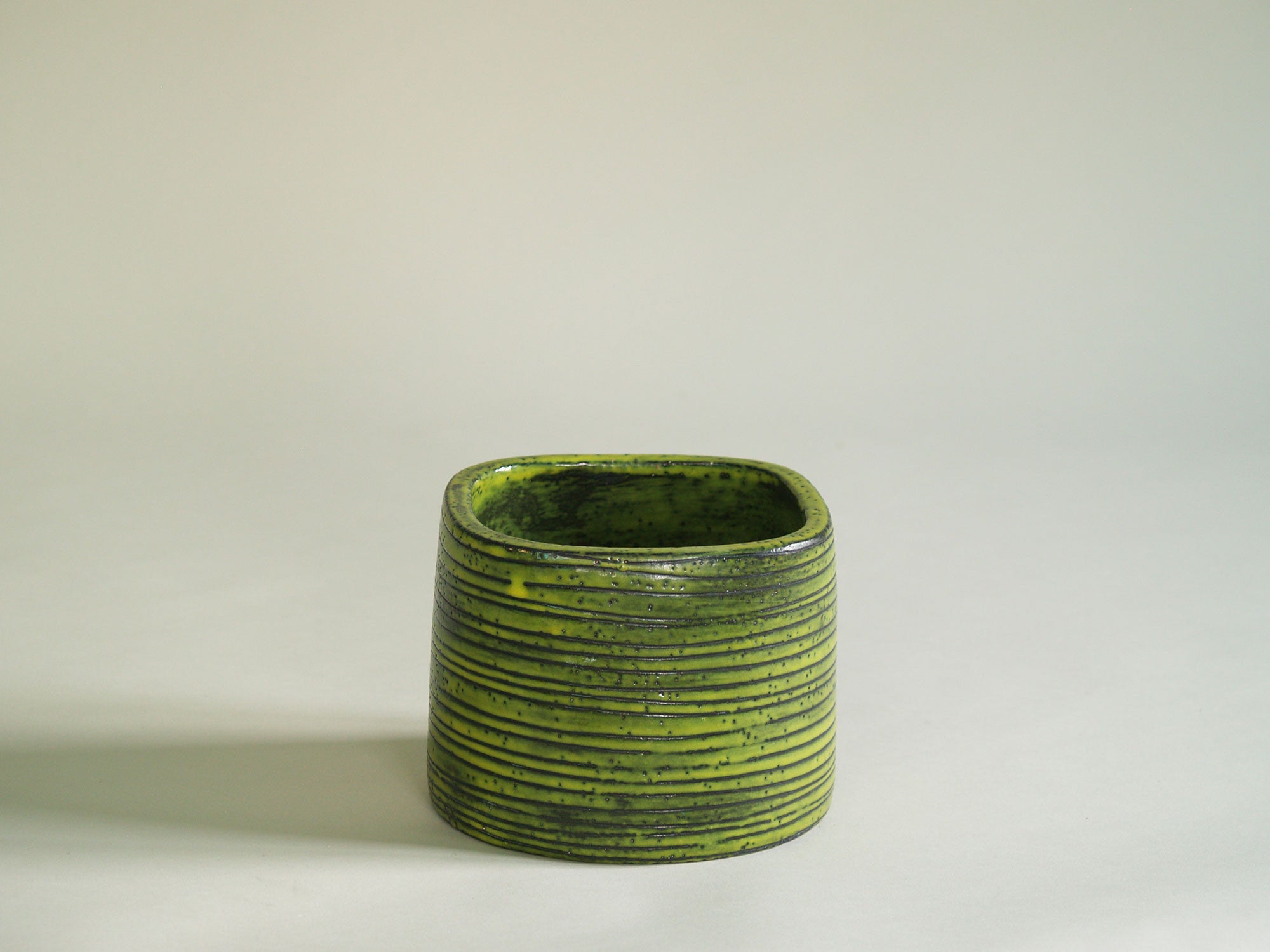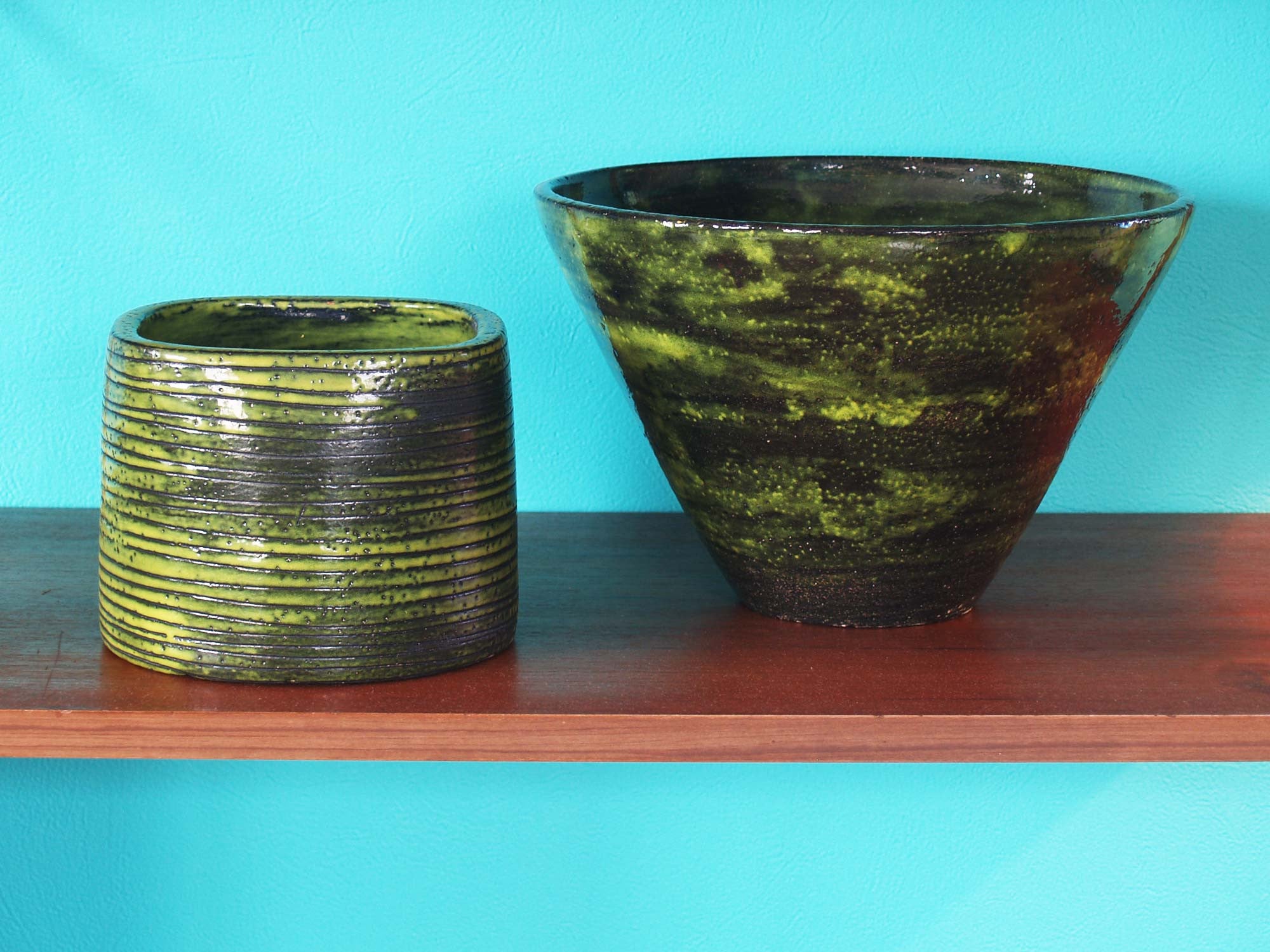 ....
Mado Jolain (née en 1921)

Rare vase-pot de la série Jardin
Faïence émaillée vert jaune sur engobe noir à décor nuagé et strié
Signature incisée «MJ» sous la base

Champigny, France
Vers 1960

Pièce unique

Bibliographie
Modèles approchants reproduit in Catalogue de l'exposition Mado Jolain, Galerie Favardin, Paris, 2000, p.18.

Dimensions
H 14 x Ø 17 cm

Condition
Excellent état – égrenure restaurée à la lèvre (1 mm) par une restauratrice diplômée de l'Institut National du Patrimoine
..
Mado Jolain (born in 1921)

Rare vase pot of the "Jardin" series
Glazed pottery green yellow on black slip to clouded and streaked decor
Signature MJ incised under the base

Champigny, France
Circa 1960

Unique Artwork

Bibliography
Similar models reproduced in the exhibition catalog Mado Jolain, Galerie Favardin, Paris, 2000, p.18.

Dimensions
H 14 x Ø 17 cm

Condition
Excellent condition - small chip restored on the lip (1 mm) by an Institut National du Patrimoine graduated craftman
....
Voir notre focus sur Mado Jolain
Notre pot est l'une des fameuses céramiques de jardin que Mado Jolain imagine aux alentours de 1960 en collaboration avec le futur très grand potier qu'est Michel Lanos.
Véritable tournant dans la carrière de l'artiste, ces pièces monumentales à l'humilité franche sont exposées en 1963 à la Galerie du Siècle et démontrent que la céramique entre dans une ère nouvelle où le potier se fait sculpteur.
Comme l'écrivaient Patrick Favardin et Karine Lacquemant dans leur catalogue consacré à l'artiste en 2000  : "Dans le paysage de la céramique des années 50, l'œuvre de Mado Jolain frappe par la modernité de sa démarche. On ne trouve chez elle ni nostalgie, ni goût du pittoresque. (...) Elle manifeste une préférence pour les formes simples, architecturées et travaillées, de telle sorte que les jeux subtils de l'ombre et de la lumière puissent s'y épanouir."

Jolain abandonne les décors polychromes de surface et à une époque où le grès et la matière brute sont célébrés, elle inaugure une manière originale et architecturale propre à son langage. Les formes simples trouvent un équilibre certain. Elles sont parfois agrémentées de striures ou de trous qui viennent faire jouer la lumière sur son fond d'émail si caractéristique qui oscille du vert foncé au jaune sur la sous-couche d'engobe noir qui accentue sensiblement la profondeur du modelé. Chaque pièce devient un morceau de bravoure architectural et dénote d'un sens précis de l'observation confronté aux grands enjeux plastiques du rationalisme.


Enregistrer
Enregistrer
Enregistrer
Enregistrer